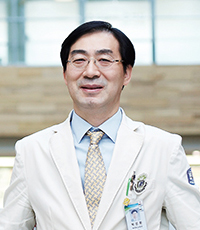 Director
National Efficacy Evaluation Center for the health products targeting Arthritis and Immune Diseases
Rheumatism Research Center
>
Professor
Department of Internal Medicine, Catholic Univ.
Thank you for visiting the website of National Efficacy Evaluation Center for the health products targeting Arthritis and Immune Diseases (CAID).
CAID was designated as an organization that evaluates efficacy of health products targeting arthritis and immune disease in the Korea Health Technology R&D Project organized by Korea Health Industry Development Institute (KHIDI) under the Ministry of Health and Welfare.
Our center has an established clinical model to evaluate efficacy of drugs for various types of arthritis (e.g. osteoarthritis, rheumatoid arthritis, gout, ankylosing spondylitis, psoriasis) and autoimmune diseases (e.g. lupus, Sjogren's syndrome, multiple sclerosis, systemic sclerosis) , and has an animal lab that meets the GLP (Good Laboratory Practice) standards for global-level efficacy evaluation services. We also endeavor to expand global businesses with services such as research on working mechanism of drugs using patients' cells and tissues, and efficacy evaluation using induced pluripotent stem cells (iPSC).
We continue to make best efforts for further advancement of medical products as we support core research with commercial potentials and provide effective efficacy evaluation services and consulting services.
Park Sung-Hwan
Director
CAID